:: THE BEST AND MOST EXCLUSIVE SITE ON THE NET ::
MET ART Was The First Site, Back In 1999 To Recognize The Importance Of Offering High Quality Photography To Their Customers, And To Offer HIGH RESOLUTION Photos Up To 4000px Res. (Currently The Only Website To Offer Such High Quality Photos). We Were Also The First Nude Site To Offer: Search Engine, ZIP Files, High Quality DIVX Movies. In Fact, We also Offer Hundreds Of Movies Featuring Our Best Models, Such As Koika, Narkiss, Andrea, Juman, And Many Others. MET ART Is The Only Site Where Master Photographer Like Roy Stuart, Chris Nikolson, Tony Ward, Jacques Bourbolon, And Many Others Agreed To Have Their Work Published.
:: ONE RANDOM MEMBER'S COMMENT ::
I have never came across such a fantastic website to say the least, it is simply brilliant and obviously the team who work on it are great with natural ability in all they do. its very difficult to stay at the top in business unless your are blessed with a few important factors and that is quality to the highest degree in my opinion your competition has done you a favour, all they are doing is indirecting making you better and better and you will stay at the top of the tree, once something special is born and recognised all it can by nature is mature.
NEW! :: EXCLUSIVE LIVE SHOWS :: NEW!
MET ART Now offers LIVE SHOWS With Chat, Featuring Real MET ART Models. The Shows Are Being Offered ONLY ON MET ART, And The Site Is The First, And Only, Nude Site, To Offer Such A Premium Service. Most Importantly, There're No Hidden Fees, Or No Extra Costs. The Shows, And Chatting With The Famous MET Models, Is Included In ANY Membership.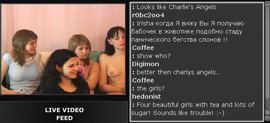 :: RATED BEST SITE ON THE NET :: MET ART Has Been Rated BEST WEBSITE On The Net, By No Less Than 7 Review Websites. The Site Has Been Rated Excellent On 3 Other Review Sites. MET ART Is The Unchallenged Number One Nude Website In The World, Featuring More Than 60 Photographers, Nore Than 1250 Models, From 5 Continents.